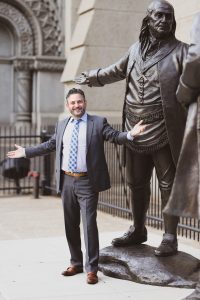 Hi! My name is David Treyster.
I am an immigration and family law attorney and founder of Hudson Law Group. My attorney practice extends to Immigration, Court Cases, Contracts, Divorce, and Real Estate.
I represent clients in state, federal, and immigration courts. My international experience helps me to understand the challenges that immigrants face, as well as their prospects in the US.
I am from Chernivtsi, Ukraine. I moved to the USA with my family at the age of nine and lived in Brooklyn, NY. I earned my law degree from New York Law School in 2003. For the next 10 years, I worked for the law firm of Paul Weiss.
In 2013 I established Hudson Law Group, with offices in New York and New Jersey.
I take a personal approach to all business relationships and tap into clients' unique needs, select the most effective solutions and walk clients through all stages of the immigration process.
None of your calls or emails will go unanswered when you need legal support.
A mix of strong internal discipline and dedication allows Hudson Law Group to deliver the greatest value to its clients. Apart from immigration law, HLG provides litigation, personal injury, real estate, business, estate planning, bankruptcy, and family law services.
You can contact me by email: david@hudsonlawny.com